Clare Garden Festival was founded in 2012 and its main aim was and still is to-date to bring Garden Expertise from the whole county and the whole country to Clare showcasing their experience in an accessible manner in the indoor arena of the festival within our Garden, Plant & Craft fair.
We have some firm favourites that we bring back year after year; and in addition we invite other experts to join us covering all areas of Gardening and beyond for Beginners and Experienced Gardeners.
We want to offer all talks in a hands-on manner and have great feedback for our demonstrations also.

We hope you enjoy this years talks & demonstrations!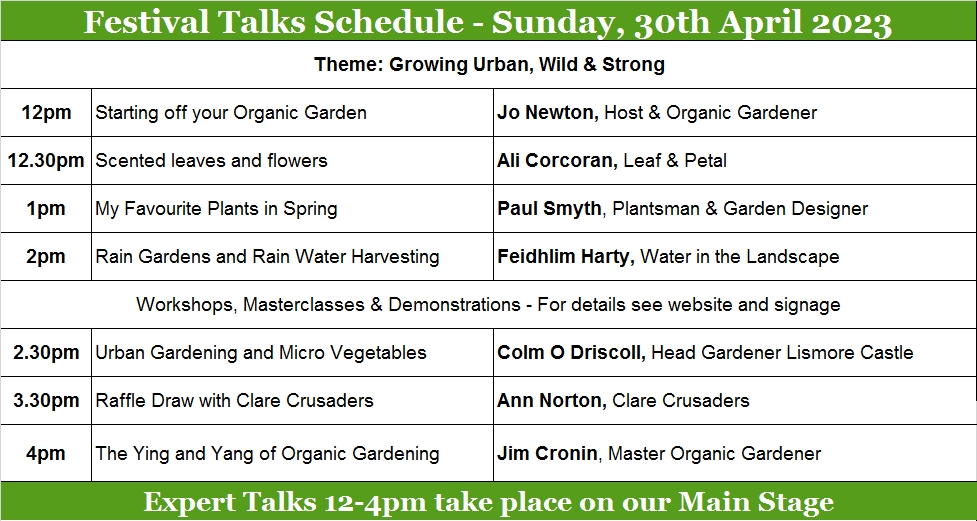 We will also have several Demonstrations and Workshops running throughout the day on stalls, in our Outdoor Demonstration area and near our Food Shed. See detailed schedule at the bottom of this page.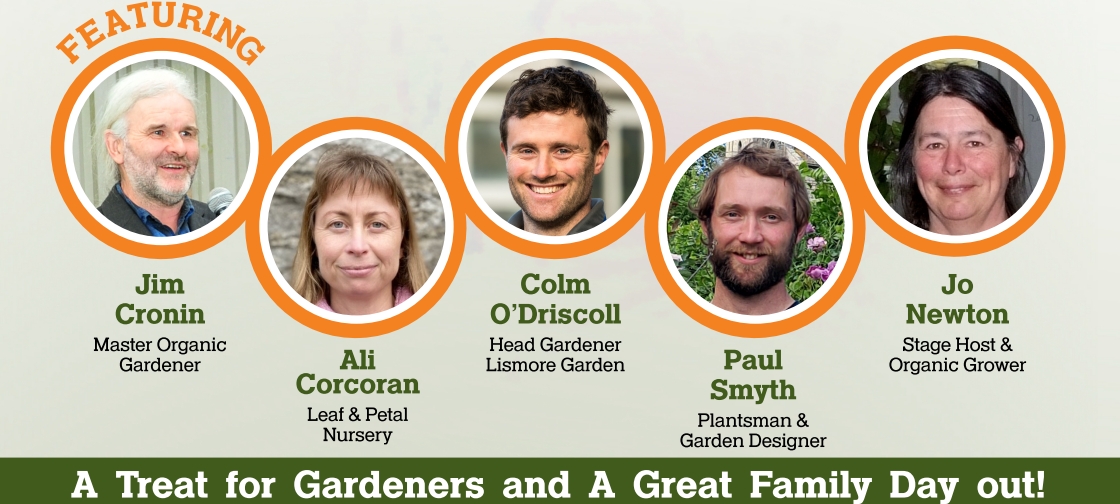 Overview of our Gardeners and their Focus at Clare Garden Festival
Jim Cronin - FESTIVAL Focus: Organic Gardening

Jim Cronin has been gardening in Co Clare from his early childhood and is now known to many as a leading national expert in organic horticulture. He is a mine of information and advice on all aspects of growing organically, with a lifetime of experience and a deep love of working in cooperation with nature. Jim is also an advocate of local, sustainable agriculture and was a founding member of the thriving Killaloe Farmers Market where he sells his garden fresh produce all year round. He is running successful courses from his farm both for beginners and comprehensive 9-month educational programmes.
Colm O Driscoll - FESTIVAL Focus: Urban Farming

A dedicated exponent of organic horticulture and craft gardening, Kildare born Colm O Driscoll spearheaded the transformation of the gardens in Airfield Estate in Dundrum from part building site to one of Ireland's must-see gardens. Recently Colm has started a new position as Head of Gardens in Lismore Castle Gardens, Co Waterford. A Graduate of the National Botanic Gardens of Ireland Colm has enjoyed a diverse career gaining experience in many sectors of the horticultural industry including, landscape, retail, nursery stock, and organic food production. Colm strives to innovate and introduce new and exciting plants while adopting sustainable methodologies, an endeavour that is clearly seen from his regular contributions to The Irish Garden Magazine, and through his lectures and workshops. Colm has an insatiable appetite for all things horticulture and he can regularly be found indulging in a busman's holiday visiting various gardens.


Paul Smyth - FESTIVAL Focus: Ornamentals
Waterford Institute of Technology trained horticulturalist and a native of Carlow, Ireland - now the head gardener at the RHSI Bellefield House and gardens, the Co Offaly home of the late Angela Jupe. He has been working alongside Diarmuid Gavin implementing and planting designs and advising on planting work. During the lockdown he broadcasted nightly Instagram live sessions titled Garden Conversations with Diarmuid, answering gardening questions and trying to help people, who had discovered the joy of the gardening for first time. These Instagram sessions led to the commissioning of a show titled: Gardening Together with Diarmuid Gavin which was light-hearted take on the craft of gardening, incorporating garden skills, simple make overs and following projects in Diarmuid's own garden, which also lead to the joint writing of a book, titled Garden Together published in May 2022.
Ali Corcoran - FESTIVAL Focus: Ornamentals - Benefactor of our 2023 Programme for Specialist Nurseries

Leaf and Petal is a small plant nursery based in West Wicklow, specialising in scented pelargoniums and unusual dianthus. Most of these plants won't be found in your garden centre. They are rare, heritage or specie varieties. All propagation is done 'in house', with only stock plants being 'bought in'. New plants are continually being added to the collection. As an ISNA (Irish Specialist Nursery Association) member, Leaf and Petal attends seasonal plant fairs and shows, with both seeds and plants for sale, there is also a selection of seeds available here online."Growing plants allows you to get to know them intimately" This is important to Rory and helps with all the identification skills needed when observing plants in the wild.
Feidhlim Harty - FESTIVAL Focus: Water in the Landscape

Feidhlim is the owner of FH Wetland Systems. FH Wetland Systems was established in 1996 to offer a design and consultancy service for constructed wetlands and other ecofriendly wastewater treatment options. Since that time we have broadened our brief to encompass a range of solutions for wastewater treatment, waterway rewilding and ecosystem repair. Our services include consultancy and design, teaching and workshops, plant supply and management guidance.
Jo Newton - FESTIVAL Focus: Talks Host & Organic Gardening

For over 25 years Jo has lived in Co. Clare, off the mains grid, on a little oasis of self- planted woodland and orchard, bogland and wild riverside, alongside productive organic gardens. This is all managed as sustainably as possible. For 20 of these years she worked with the Irish Seed Savers, co-ordinating the growing, harvesting, threshing and saving of seed of over 200 different crops of vegetable, grain and flowers each and every year. The best way of showing a self-sustaining lifestyle is to live it, leaving biodiversity, natural beauty and abundance for our descendants. In 2022, Jo is exploring new gardening paths and opportunities.