Clare Garden Festival prides itself in bringing Garden Expert Speakers from near & far and showcasing their experience in an accessible manner in the indoor arena of the festival within our Garden, Plant & Craft fair.
We have some firm favourites that we bring back year after year; and in addition we invite other experts to join us covering all areas of Gardening and beyond for Beginners and Experienced Gardeners.
We thrive to offer all talks in a hands-on manner and have great feedback for our demonstrations also.

We hope you enjoy this years talks & demonstrations!

ALL DETAILS BELOW will UPDATE in April 2023!

We will also have several Demonstrations and Workshops running throughout the day on stalls, in our Outdoor Demonstration area and near our Food Shed. See detailed schedule at the bottom of this page.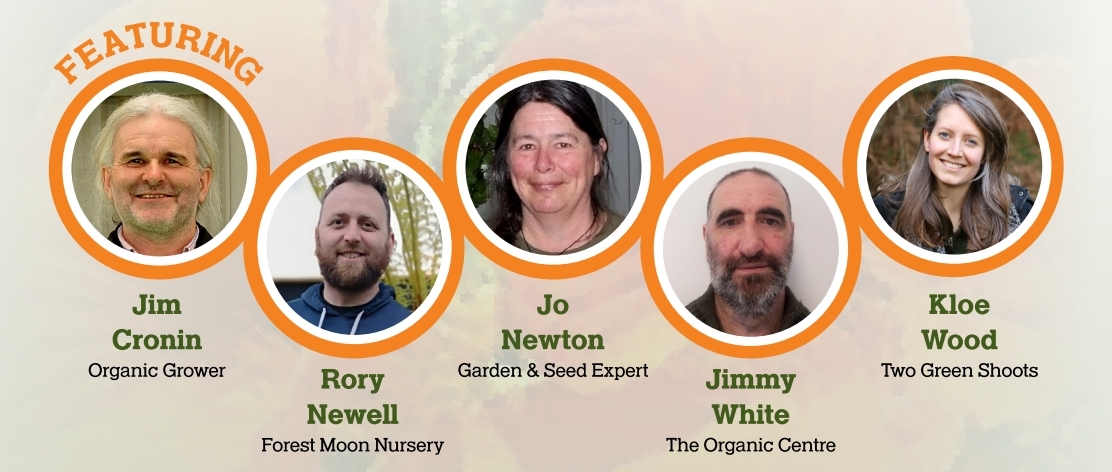 Overview of our Gardeners and their Focus at Clare Garden Festival
Jim Cronin - FESTIVAL Focus: Organic Gardening

Jim Cronin has been gardening in Co Clare from his early childhood and is now known to many as a leading national expert in organic horticulture. He is a mine of information and advice on all aspects of growing organically, with a lifetime of experience and a deep love of working in cooperation with nature. Jim is also an advocate of local, sustainable agriculture and was a founding member of the thriving Killaloe Farmers Market where he sells his garden fresh produce all year round. He is running successful courses from his farm both for beginners and comprehensive 9-month educational programmes.
Jo Newton - FESTIVAL Focus: Beginners Organic Gardening

For over 25 years Jo has lived in Co. Clare, off the mains grid, on a little oasis of self- planted woodland and orchard, bogland and wild riverside, alongside productive organic gardens. This is all managed as sustainably as possible. For 20 of these years she worked with the Irish Seed Savers, co-ordinating the growing, harvesting, threshing and saving of seed of over 200 different crops of vegetable, grain and flowers each and every year. The best way of showing a self-sustaining lifestyle is to live it, leaving biodiversity, natural beauty and abundance for our descendants.

In 2022, Jo is exploring new gardening paths and opportunities.
Kloe Wood - FESTIVAL Focus: Ornamentals, Edibles and Wildflowers

After growing up in West Cork, Kloe discovered the wonders of hte natural world while doing a BSc in Zoology with Conservation and continued to do a MPhil in Sustainable Development. She loves connecting with people and places and her first community project was Exeter Green Walks and Community Garden. Kloe did community work launching an award-winning Green Walks project in Truro, running events with Transition Truro and launching a project called Plant your Park. She also has a PhD having researched health and wellbeing benefits of green spaces. She is back in West Cork now as one of the Two Green Shoots - www.twogreenshoots.com


Jimmy White - FESTIVAL Focus: Composting
From Ballyshannon, Co Donegal, Jimmy grew up in a family of 13 children. With such a large family they had to grow their own vegetables and help doing so. He studied Applied Biology at Sligo Regional College and Applied Biochemistry at University of Ulster at Jordanstown. He worked for over 17 years in the private and public health care sector until the pull of wanting to grow and work outdoors became too strong. At the age of 45, he studied the level 5 Organic Horticulture at the Organic Centre, Rossinver and level 6 Nursery Stock Production at the Botanical Gardens in Dublin. He now work as a project coordinator with the Organic Centre, Rossinver.
Rory Newell - FESTIVAL Focus: Ornamentals

Rory Newell is a horticulturist/nursery man based on the outskirts of Galway City. Forest Moon plants is a collection of botanically interesting plants and many of the old garden favorites. His interest in plants has brought him across the world on trips to see plants growing in situ and has found him becoming increasingly interested in the conservation of plants. "Growing plants allows you to get to know them intimately" This is important to Rory and helps with all the identification skills needed when observing plants in the wild.

Brid Hedderman - FESTIVAL Focus: Talks Host & Horticulturalist

BrÍd Hedderman is a full-time teacher with the LCETB (Limerick & Clare Education Training Board). Having run her own market garden for 15 years alongside her father and uncle-adopting their traditional methods of gardening-she went on to study Horticulture with the RHS. She lives on the Loop Head Peninsula, where she gardens endlessly and, outside her time in training and education, encourages people to grow their own and to support local food producers. She also voluntarily coordinated the Kilrush Community Garden project encouraging all groups and individuals to partake in sustainable workshops through community education.