Way description/ Accommodation Partner
The festival will be run by Co Clare Agricultural Show Society at their premises of Ennis showgrounds, just off the M18. This year the festival will feature an extensive Garden & Food Fair in addition to our expert garden speakers.

Our festival will be held in the large Indoors Arena (holding over 30 stalls) and the Outdoors Courtyard of Ennis Showgrounds. There is plenty of Entertainment for the whole family, free parking and good food on-site throughout the day.

  Contact us via email on info@claregardenfestival.com
  Call us on 087 611 7538
  Address of Ennis Showgrounds: Showgrounds Road, Ennis - V95KR90
The grounds include free car parking and all our expert talks & demos are included in your entrance ticket priced as follows, tickets at gate:
Adults: €8 per person, 2 adults for €15

Children under 16 free (Children must be accompanied by an adult. )
Please enquire for group rates

Opening Hours: 11am - 5pm
Way description to Ennis showgrounds:

From Limerick / Dublin / Galway Take Exit 12 off the M18 motorway towards Ennis, follow directions for Ennistymon (the N85) to the Beechpark Roundabout.  Take 3rd exit onto circular road R474.  Turn right onto the Showgrounds Road. Follow the small road up a hill and on the way down, the Ennis Showgrounds is on your right. See interactive map here for details.

Coming from Ennis Town, use Drumbiggle Road (same road that Ennis Town Council was on) and follow it down, take a left into Ennis Showgrounds where its sign-posted.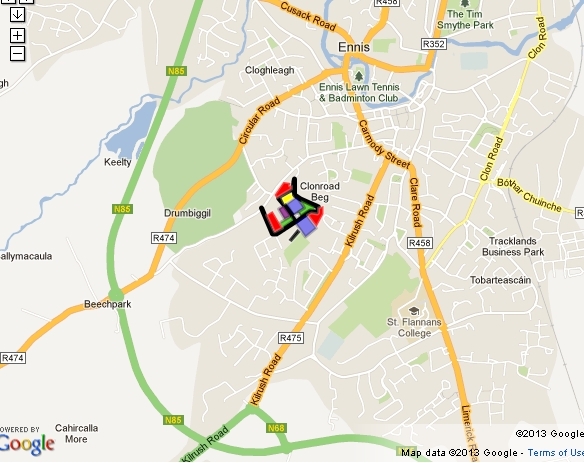 We are proud to be supported by our Accommodation Partner
The 4 Star Temple Gate Hotel welcomes you to a charming, family owned and managed Hotel in the heart of Ennis Town, Co. Clare. Featuring the award-winning Legends Restaurant and the popular Preachers Pub, the hotel caters for all tastes. The hotel rests on the site of a 19th century Convent of Mercy with a fascinating and eventful history. Discreetly situated just off Ennis Town centre, a short walk through the warm glow of the Victorian lamps in the cobblestoned courtyard leads our guests to the heart of the historical and vibrant town of Ennis.
Dog Policy: Your dog is very welcome to join us. Please make sure to keep him on a lead and to stay on the ground levels of the event (upstairs food only). Of course you are bringing him at your own risk and you ll need to 'pick up' after him.
The Clare Garden Festival team, our wonderful expert speakers and exhibitors at our Garden & Food Fair are hugely looking forward to welcoming you on the day!